Wedding receptions should be fun and energetic, allowing guests to converse amongst themselves, enjoy good fun, and shake their tail feathers on the dance floor. When the dance floor remains empty, it can leave an awkward void in your wedding. So, how do you encourage guests to get up and dance?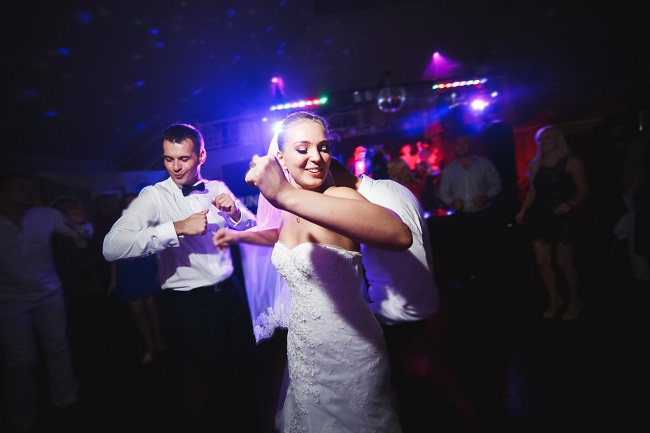 Set an Example
The bride and groom should set an example by getting on the dance floor first. Once they begin dancing, others will follow suit. Of course, the traditional setup for weddings should include a father-bride dance, mother-groom dance and groom-bride dance, at which point guests can let loose. But there's no rule stating that you must follow this format. Regardless, though, the bride and groom should dance first.
Choose Your Dance Floor Wisely
You can't expect to dance at your wedding unless there's a spacious, accommodating dance floor. So, how big should the dance floor be? A good rule of thumb is to reserve at least two square feet of dance space for every two guests at your wedding. If 100 guests attend, designate at least 200 square feet for the dance floor. This should provide anyone who wants to dance with adequate space.
Hire the Right DJ
Don't cut corners on your wedding entertainment, as the right DJ will play a pivotal role in encouraging guests to dance. When choosing a DJ for your wedding, check his or her credentials and past experience. Most DJs today have either a website or Facebook Page where you can view actual footage of their work with past clients. Are they interacting with the audience? How do they transition from song to the next? Are they simply pressing the 'play' button? These are all questions that you should try to answer when choosing a DJ.
Your search for the perfect wedding reception is over. Contact us to learn why The Legacy is Texas' premiere venue for receptions, parties, and social gatherings.