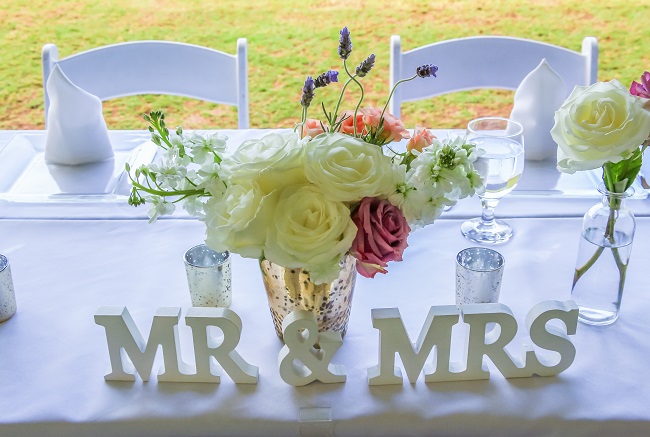 Some brides and grooms already know which colors they would like to use on their wedding day and keep those colors in mind while they are on the hunt for the perfect wedding venue. After all, they don't want the color scheme to clash with the venue's carpet, art or other items that make up its décor. But what about those of you that are still trying to decide what color scheme to use? Sometimes it is easier and more cost-effective to book your venue first and then use its decor and color palette as a guide when deciding which tones and hues you want to use in your wedding.
After you have booked the perfect venue for your event, you and your partner can choose two to four colors that compliment the room and your individual tastes. Using the same colors throughout your wedding décor will help bring your vision together. You can choose complimentary colors, varying shades of the same color, or possibly a monochromatic look with one bold shade like bright red or royal blue.
After you have decided which colors to use, then you should decide which color will be the dominant one in your palette. Which hue would you like to see highlighted? Next, you can decide the rest of your decorating details, such as the table settings and flower arrangements. Overall, if the colors complement your wedding venue's décor and do not clash with the surroundings or cause a distraction, the more your guests will be able to focus on the lovely bride and groom.
To find out more about how you can book The Legacy for your wedding venue, please contact us today.