Champagne, dancing, and cake! To many, the reception is the main event of the wedding day. It's where a majority of the blood, sweat, and tears are shed during the planning process. Wedding ceremonies, on the other hand, can easily be overlooked as just a formality. The Ceremony: More Than Just the "I Do's"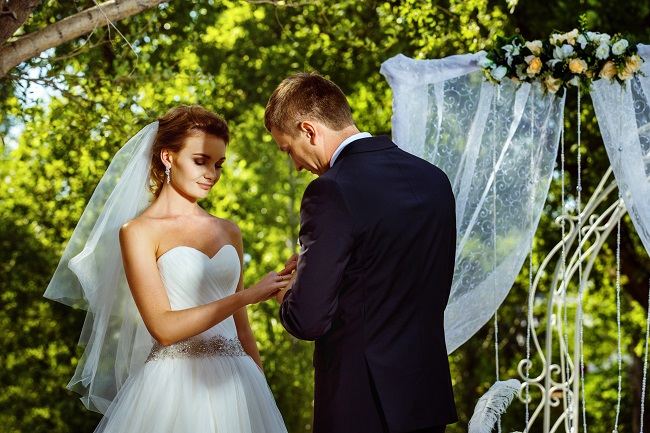 Although this may have been true in the past, today's brides and grooms are extending their creativity and planning to the ceremony. With more and more wedding ceremonies being performed outside of religious buildings, the options to customize your ceremony have grown tremendously. Here are just a few ways to make your ceremony just as memorable and personalized as your reception.
Take a Seat!
Changing the seating of your ceremony can be enough to change the entire experience. Creating a circle or spiral seating arrangement around where the ceremony is going to take place can add a modern twist to the usual row-style seating. This will also allow guests to see the wedding from every possible angle and give photographers unlimited angle options.
Changing the actual seat is another way to add to your ceremony. Your venue or a local rental vendor may have alternative options to use such as hay bales, benches, or sofas. Options like these can effectively tie in a theme that continues into the reception and creates a lasting impression on your guests.
A Ceremony Within a Ceremony
Unity and other types of ceremonies have been making their place during wedding ceremonies over the last decade or so. Where brides in the past may have been limited to candle or handfasting ceremonies, today's brides have endless possibilities. An example of some of these ceremonies are:
Sand Ceremony
Love letters ceremony
Colored water ceremony
Wine ceremony
Tree planting ceremony
These ceremonies can be symbolic for an array of reasons. They can include just the couple who are getting married, their families, children within the marriage, friends, or anyone who has played an important role in their lives and relationship.
Music That Moves You
Music plays a large part in a wedding ceremony. When the first few notes of "Here Comes the Bride" are heard everyone knows exactly what that signifies. By selecting music for specific points throughout your ceremony you can create an atmosphere and suggest certain emotions to your guests. There are many opportunities throughout a wedding ceremony to use music:
Send a message of love to your groom or bride while walking down the aisle
Include family and friends who may sing or play an instrument
Select a specific song to play during a unity ceremony or as background music throughout
Get the party started with a happy and uplifting song to have fun with during the recessional
There is an infinite amount of ways to customize your wedding ceremony to be more than just saying "I Do". You are limited only by your imagination!
To learn how The Legacy Venue can accommodate your dream ceremony, be sure to contact us for more information.