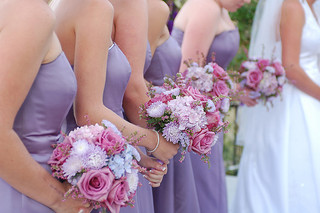 Planning a wedding is undoubtedly difficult. Being asked to act as bridesmaid is not all fun and games either. As the bride's next in command, you are asked to plan and participate in events. As you work toward helping the bride down the aisle on her special day, ensure that you are doing these things:
1. Don't Cause Drama
This is the golden rule of participating in a wedding. You don't want to rock the boat, and you certainly don't want to disrupt the process of planning the wedding. Bring up issues if you have them, but do so in a courteous, soft way.
2. Ask about the Dress
The average costs of a bridesmaid dress is about $150. If you see the price going beyond what you can afford, ensure that the bride knows this early on. You don't want her to make a decision without knowing your financial status.
3. Communicate with Other Bridesmaids
It is essential that you reach out to the maid of honor and other bridesmaids, whether it be via text or Facebook. Gather contact information early on and become an active participant in planning the bachelorette party and other pre-wedding activities. You don't want to be the bridesmaid who gets left in the dark.
4. Consult with the Bride about Hair & Makeup
Whether you are about to walk down the aisle or are simply attending the rehearsal dinner, it is important that you do not outshine the bride. Ask her what hair style, makeup, andclothing colors she wants bridesmaids to wear. She may wish to keep everybody uniform for these events.
Are you helping the bride-to-be plan her wedding? Contact us to learn more about your lovely venue.