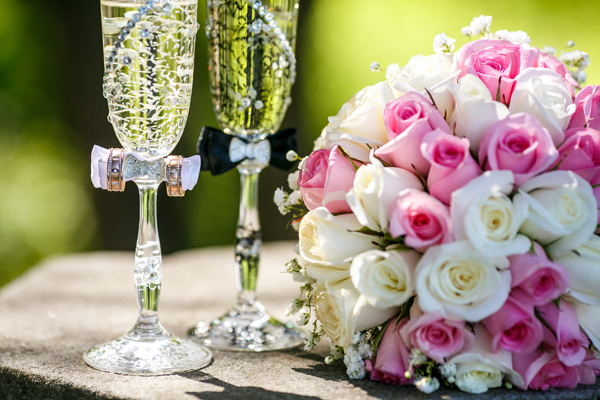 Planning wedding receptions is never an easy process; after all, there's so much to consider–from the cake cutting and the first dance to the dinner and everything in between. It's no wonder receptions can be so pricey. Fortunately, there are plenty of ways to cut costs, especially when it comes to your bar tab!
Consider a Pre-Paid Tab
Rather than holding an open bar for the entirety of the reception, ask your venue if they'll allow you to pre-pay a bar tab. This way, you can allocate a set amount (say, $500) towards your bar tab. Once you hit that amount, the bartender will notify you. At that time, you can choose to switch to a cash bar or be billed for the additional costs.
Limit the Open Bar Hours
The idea of offering an open bar is appealing, but if you're holding a longer reception, costs can really add up–especially considering most venues charge per-person on an hourly basis. To save money, consider offering an open bar for just the first hour or two of your reception; this is when people will get themost use out of it, anyway. From there, you can switch to a cash bar.
Ask Your Venue About BYOB
One final way to save money on your reception bar tab is to ask the venue if they'll allow you to provide your own alcohol. Some venues will allow this and some won't, but it's worth asking. If you can provide your own alcohol, you can likely save money and focus on buying brands and types of liquor that you know your guests will enjoy.
By keeping these tips in mind, you can save yourself a pretty penny on your wedding bar tab while still ensuring your guests have a great time. Looking for more help in planning the perfect wedding? Feel free to contact us today!