Flowers, drapery, decorations, special architectural features are all lost in the darkness of your event. Create delightful design lighting elements such as pin spotting which enhances all the beautiful accents and the efforts of all the designers at the venue. Pin spotting is small beams of light focused on centerpieces, flowers, artwork, wall and ceiling designs. All the design features of your venue and the decorations designed to enhance all venue events. Wouldn't it make sense to make each of them stand out and enhance the guests' experience of your event? Here are our top tips to regarding pin spot lighting design touches for your venue.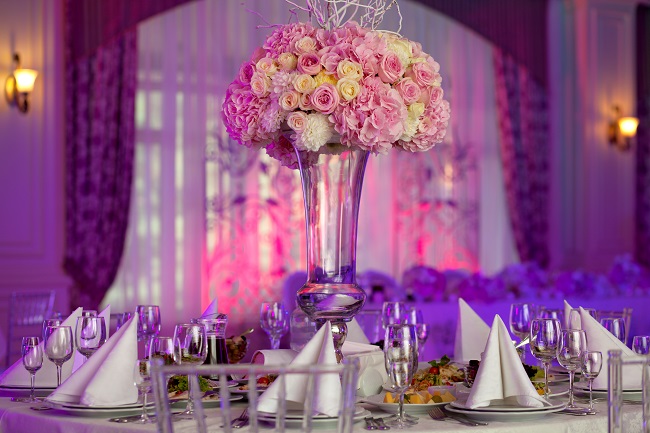 Pin Spot Lights
Tiny lights which are special design lighting, either conventional or LED lights, spotlight and complement the little things in the venue. When the lights go off pin spotting allows for the details to stay as part of the whole design, while providing individuality to decorations, architectural features or artwork. Spotlight a wedding cake, centerpiece
Variety of Lighting
The stage, podium or screen are only part of the event experience, but when a pin spotlight is shining down to a specific focal point to direct the audience attention.
Candle lighting is intimate at the table level, but pin spotting focuses on the arrangements above the table line, thus enhancing the overall experience with a variety of lighting working together.
Pin Spotlighting from above enhances individual items and the use of different color lights add to the theme of an event or ambiance of the venue.
Design Elements with Ease
Blank walls or draperies enhanced by different color pin spot lighting provide design elements in a venue without hanging, draping or standing other decorative items, thus eliminating damage.
Transport and storage of decorative pin spot lights are minimal.
Changing the position, color and amount of pin spot lights are easy and a creative enhancement without cumbersome equipment.
Decorative design for your venue is important. Lighting on your centerpieces, stage, podium, artwork or architectural elements enhances the visual effect of the venue and your event. Pin spotting lighting is simple, easy and provides a maximum effect using small lights. Pin lights are easy to install, clean up, transport and store. The Legacy is the perfect venue to have your event. To talk to one of our professionals about your event please Contact us.